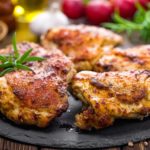 Fast & Easy Baked Chicken Thighs or Breast
If you need some chicken quick, this recipe will help you out. You don't have to pound the chicken as described. However, it will help the chicken cook faster and more evenly. Some of my favorite herbs/spices include: rosemary and Herbs de Provence. I recommend using tongs to move the chicken from place to place to avoid contaminating your hands and other parts of the kitchen with chicken and chicken juices that have the potential to carry salmonella. I also strongly recommend using a quick read kitchen thermometer for meats to ensure they are properly cooked.
Ingredients
Chicken breasts or thighs in the amount you need

1-2

tablespoons

olive oil

1

teaspoon

Kosher salt

½

teaspoon

fresh ground pepper

Other herbs/spices you desire

optional
Instructions
Preheat oven to 400 degrees F

Using tongs, place the chicken in a plastic bag and squeeze the air out when you seal it (or cover it with plastic wrap)

Take a rolling pin and bash the chicken until they are an even thickness (I usually get the thicker parts even with the thinner parts meaning I don't bash the thinner parts, only the thicker ones; the plastic bag/wrap is to keep chicken juices from splattering everywhere as you bash away)

Using tongs, remove the chicken from the bag/wrap

Place on a plate or in a bowl

Drizzle 1 – 2 tablespoons of olive oil over the chicken

Sprinkle the salt, pepper, and herbs/spices on the chicken

Toss with tongs; if you need to add more oil, salt, pepper, or spices do so

Using the tongs, place the chicken in a baking dish

Place the chicken in the oven and cook for 10 minutes

Using tongs, turn the chicken and continue to cook until the internal temperature reads 165 degrees F for chicken breast and 165-175 degrees F for chicken thighs

Remove from the oven and cover with foil

Let rest for 5 minutes

Serve and enjoy!